Installation
Step 1.
Getting started is fast and easy. There isn't really any installation required. All Starchives come pre-bundled with the ability to import from Zoom. To activate or install all you need to do is go to the Starchive uploader and click on the Zoom option.
Once you click on the ZOOM option, you will be prompted to connect to Zoom where you will confirm by logging into your Zoom account.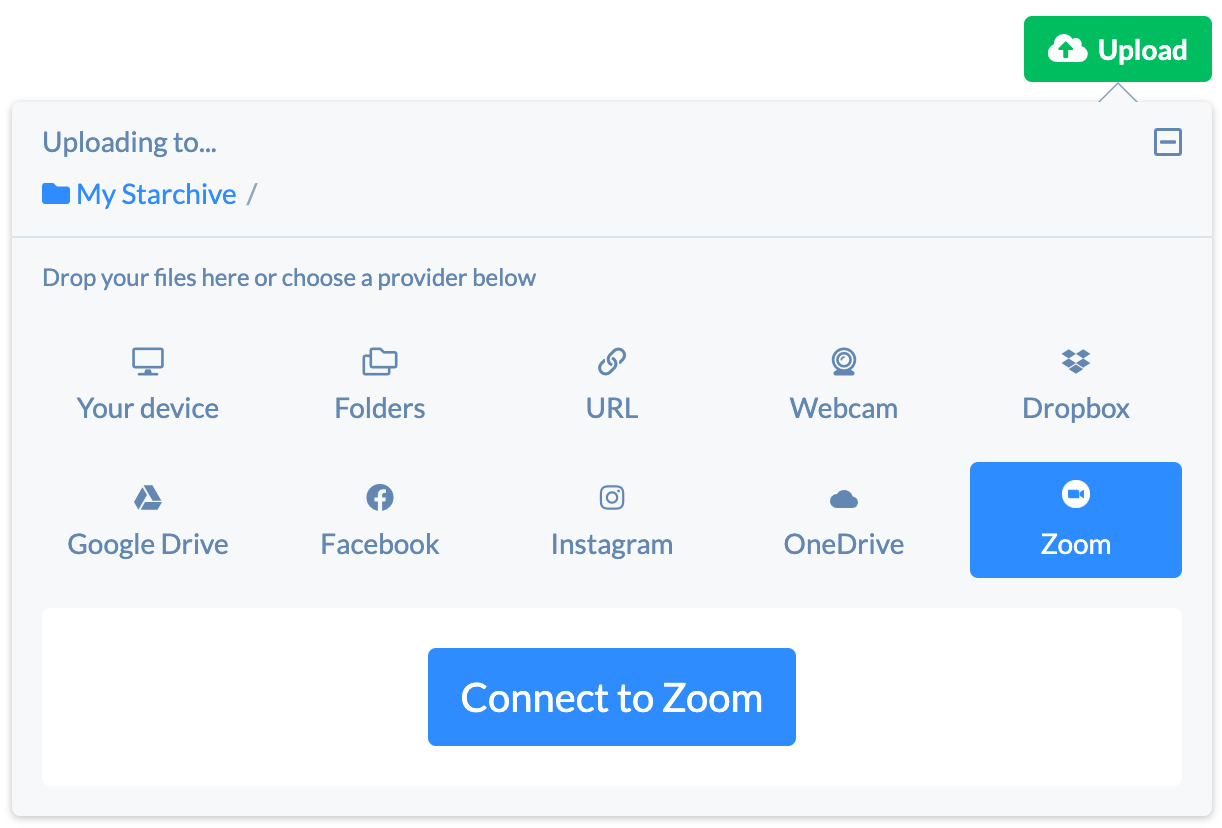 Step 2.
Authenticate. Sign in with your Zoom Credentials. [Note:] Basic Zoom account, those limited to 45 minutes and who use it for free are not able to record to the Zoom cloud and Instead record to their Desktop. Please see the Troubleshooting notes below if you connect to Zoom and don't see your meeting recordings.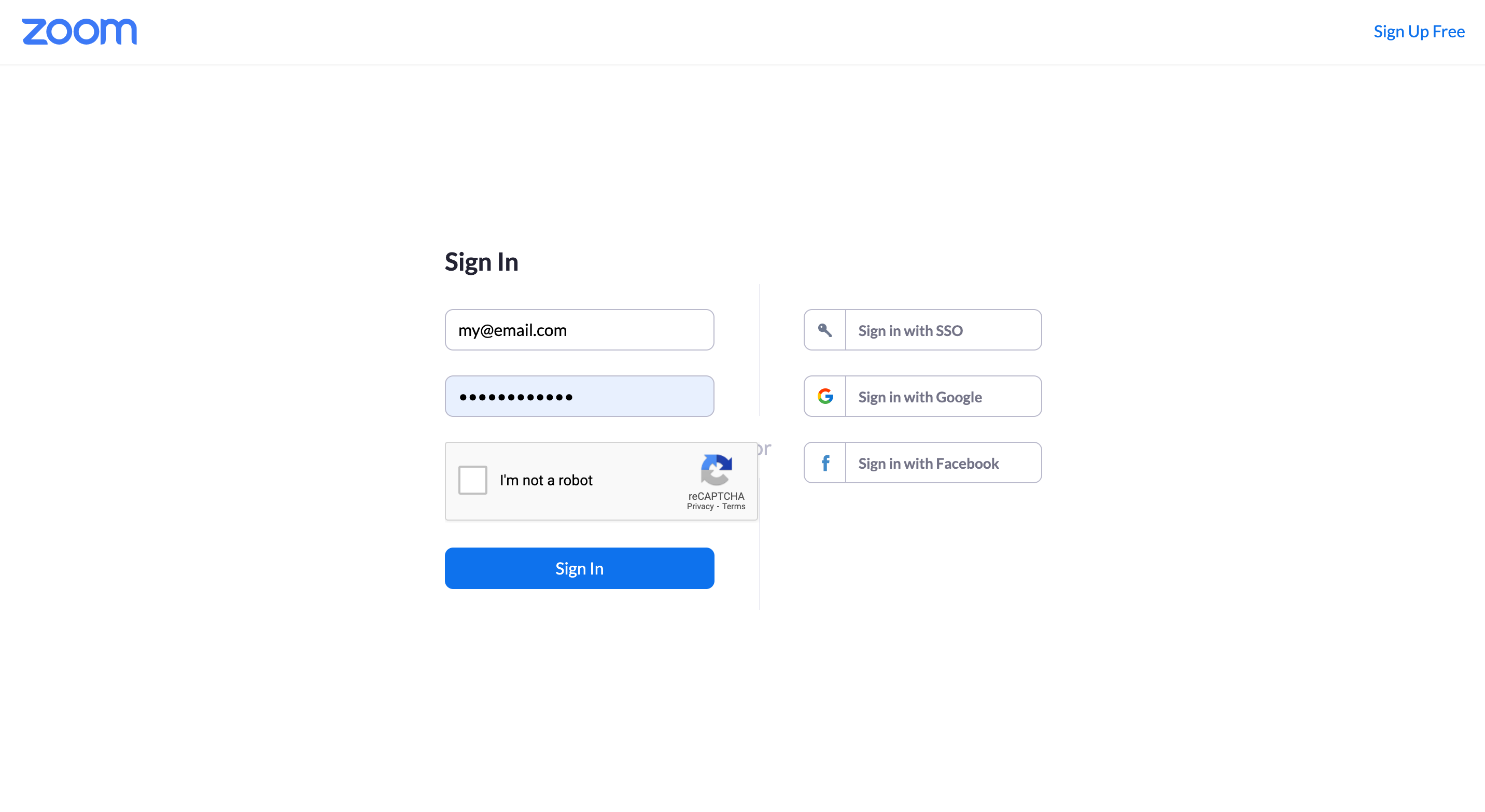 Usage
The Starchive uploader allows you to import your call recordings from Zoom as often as you want.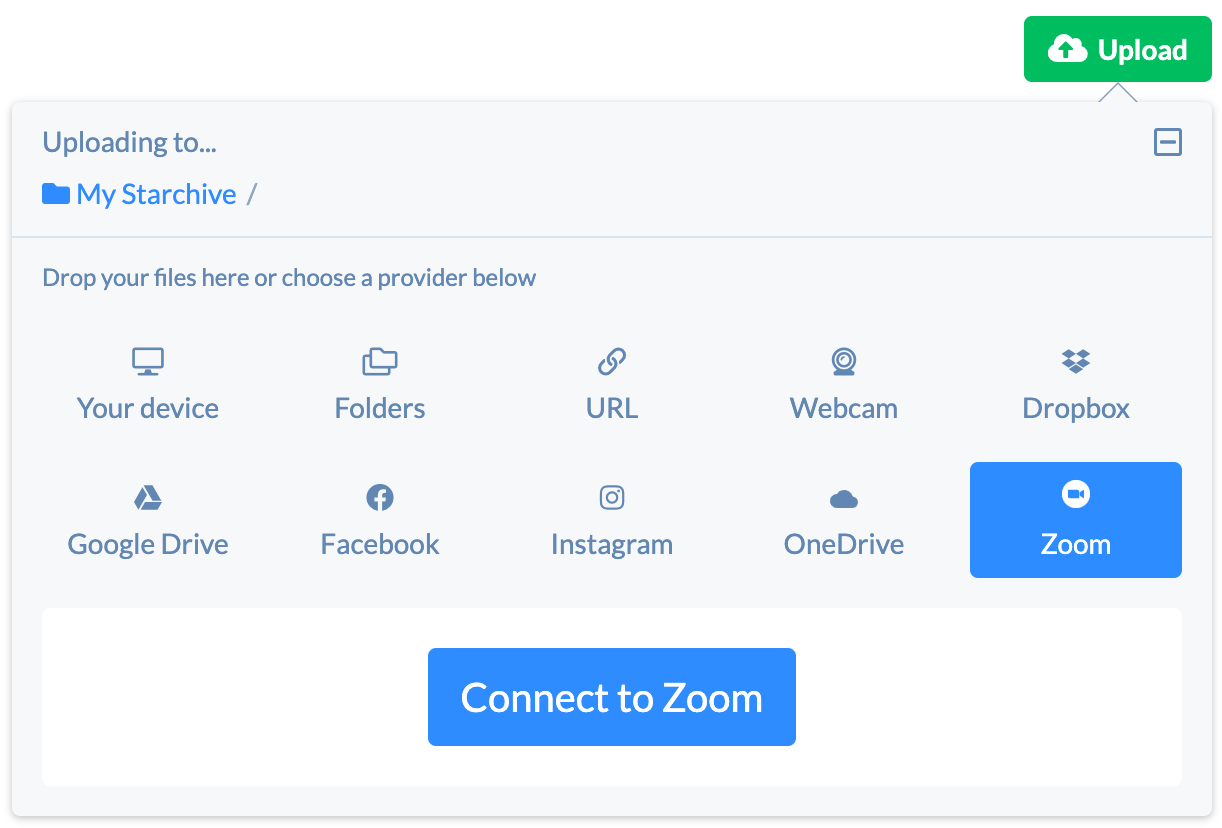 Once you have connected to Zoom, you will see a folder for every month. If you want to import the whole month, simply select it and click the green 'select' button to import it.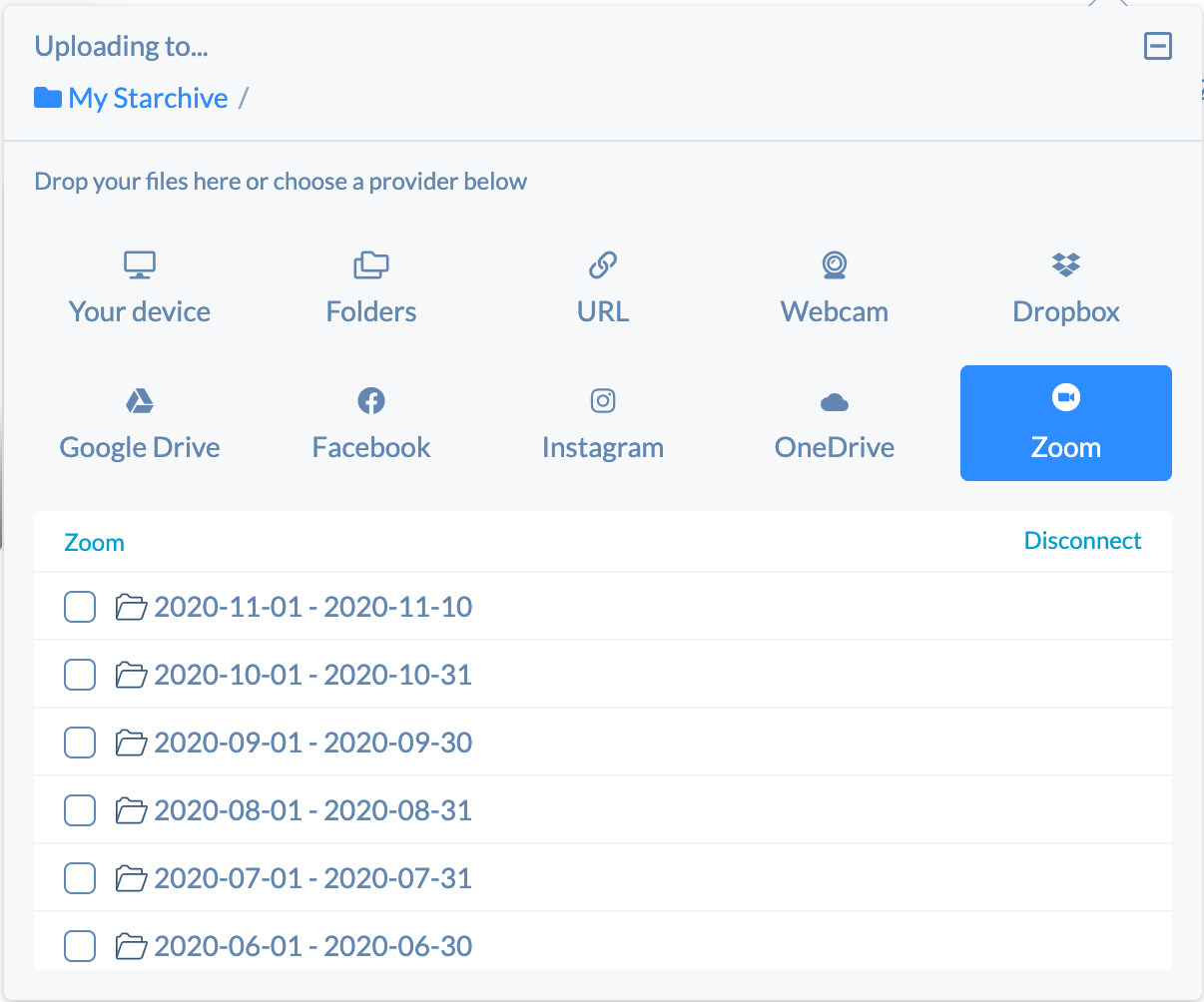 Select the files you want to import.
In this screenshot, you can see I've navigated into my month's folder and into a particular call, that I'd like to import. Here I can import the VIDEO, AUDIO, and Chat files.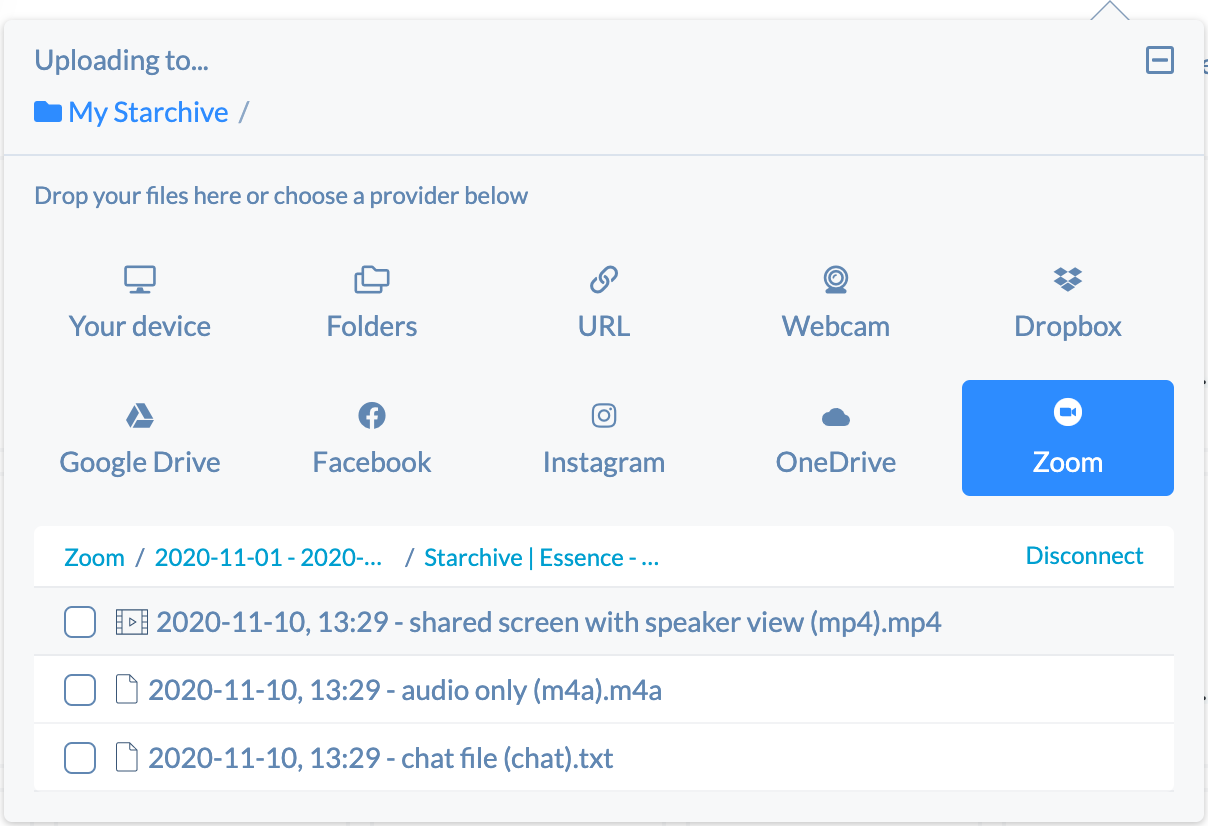 Click the green `Select` button to import files.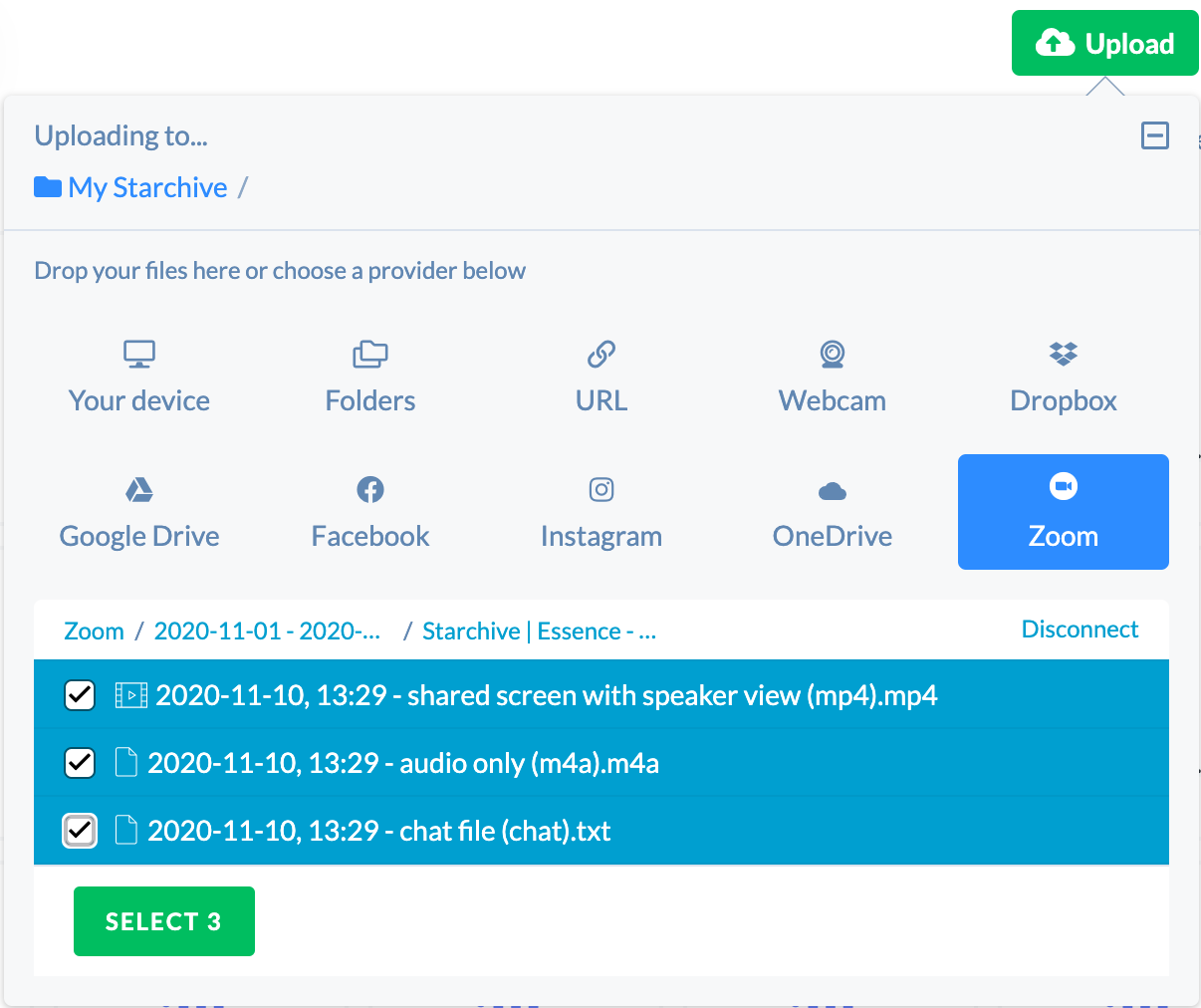 Once you've clicked the select button you will immediately see your files appear in the upload queue. A progress indicator will countdown until the import finishes.
Fortunately, both Starchve and Zoom are cloud-based and so we're not downloading your files to your computer but rather transferring them from cloud to cloud.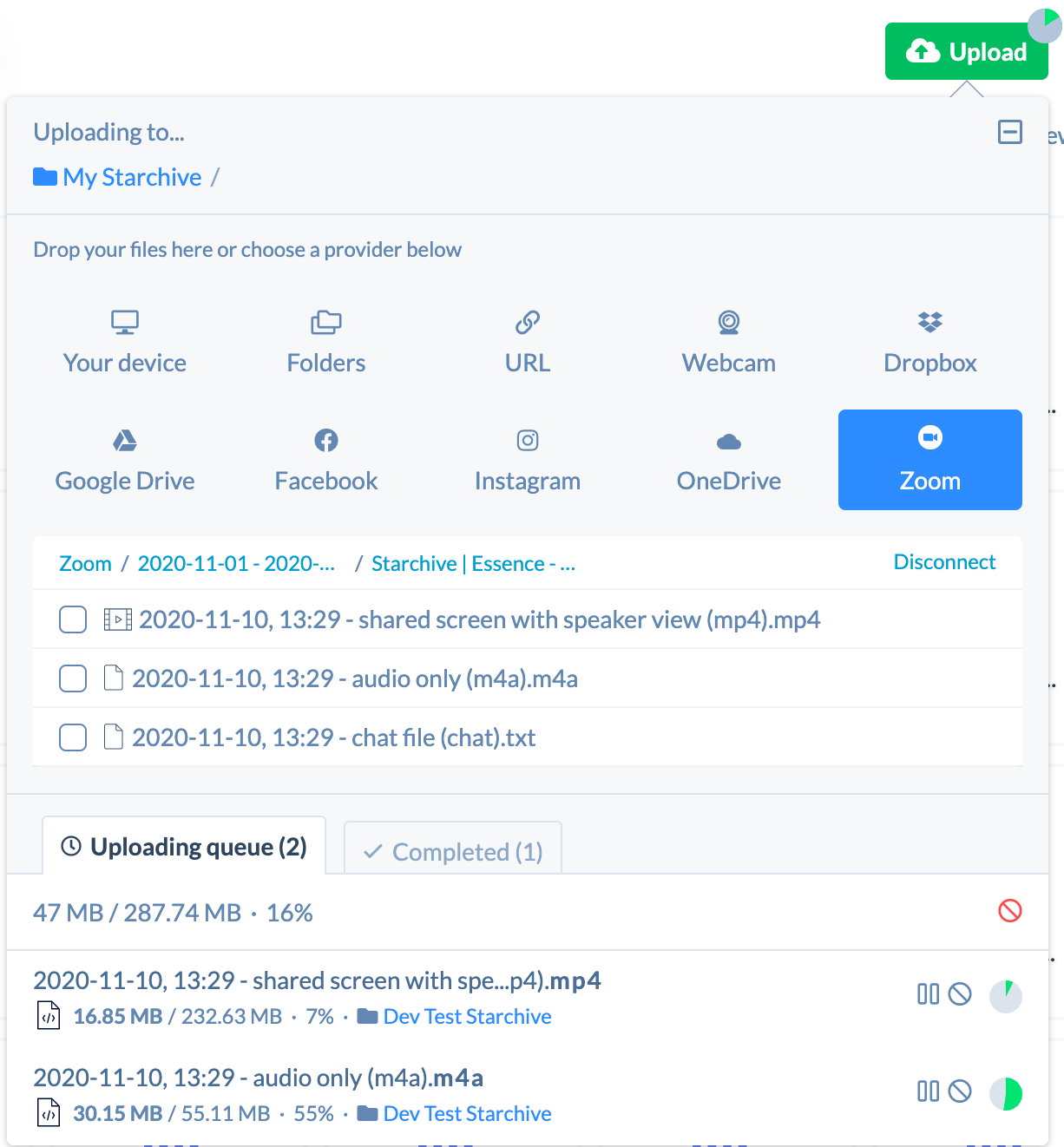 Once your import finishes you will see the files imported represented with thumbnails like this.
Double click any of the files to preview and rewatch, share, download, tag, or add to a collection.

In this image, the author describes how fast Starchive imports files from Zoom.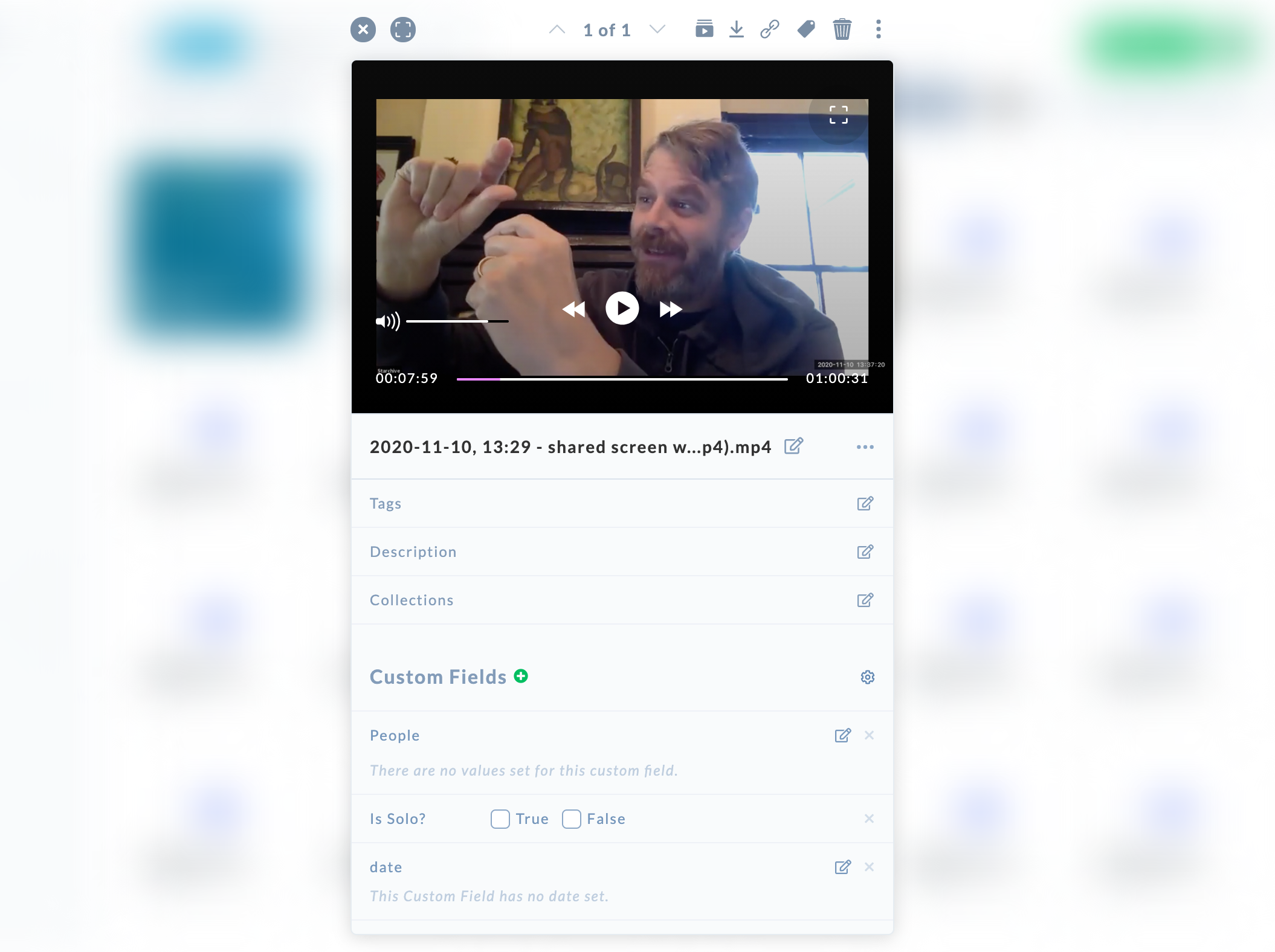 Uninstallation
Deactivating or Disconnecting from Zoom is fast and immediate. Simply click the button labeled disconnect and you will be logged out. [Note:] If you disconnect, you will need to reauthenticate.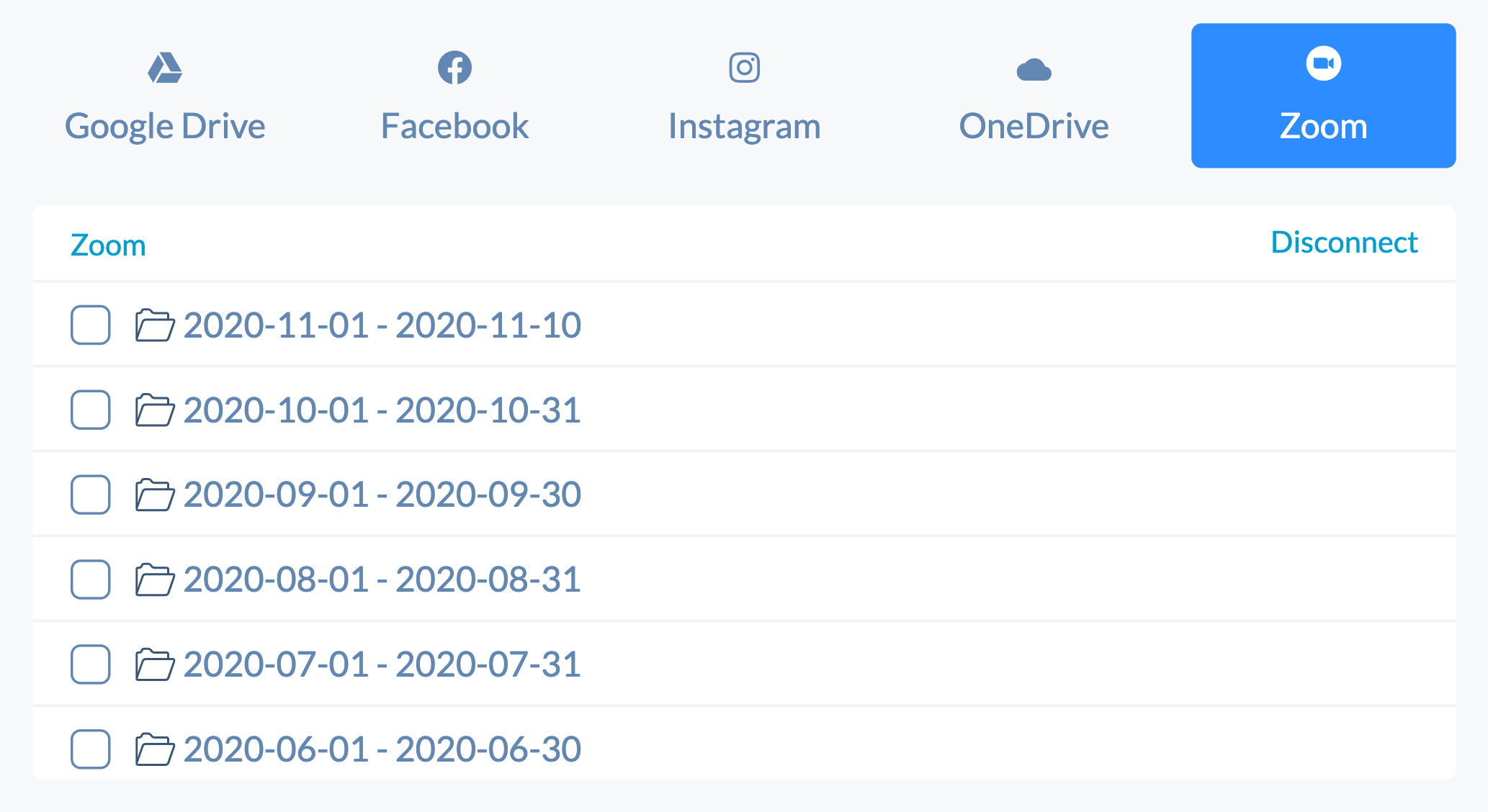 Troubleshooting
If you have followed these steps and authenticated to ZOOM and you don't see any recordings, it may be that you have the FREE version of ZOOM which only supports recording the files to your Desktop. If this is the case, you can still upload your Zoom recordings to Starchive but you must treat them as normal files ... Learn more about saving local Zoom recordings to your computer.
Don't see the cloud recordings in your ZOOM account that you'd expect to see as a paying ZOOM subscriber who can record to cloud? This may be because you don't have the correct Zoom permission to see certain recordings that other users may have marked private.
If you are the admin and you are confident you should be seeing your ZOOM recording, please reach out to support@starchive.io and we'll help you figure out what the problem maybe.
FAQ
If I have 5 members in my Starchive can each member login to ZOOM via their Starchive?
Absolutely. Every member of Starchive will connect to their own Zoom accounts. This makes Starchive highly valuable to teams and organizations who wish to or must keep their Zoom meeting recordings.
Contact Support
Do you need help or have questions?

Please create a support ticket https://digitalrelab.zendesk.com/hc/en-us
Or email us directly at support@starchive.io.